The InReach team is trained to provide you with the highest standard of customer care.
Clients receive contact information for business hours support as well as our emergency response line, for 24/7 access. We are there when you need us, to provide guidance on any issue that arises, from "I need help setting up a webinar" to "I don't know how to enter this into our catalog."
I have enjoyed my experience working with InReach. They have been tremendously helpful in getting our online catalog off the ground and their staff is always available and supportive.

SHARLA HOOPER, Associate VP of Communications and Accreditation,
Arizona Medical Association
Growing a CE Program – "As long as InReach is there, we'll be there."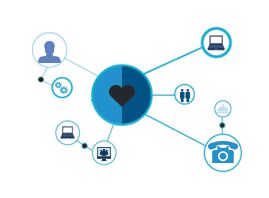 Our Commitment to You
Our goal is to help you reach your goals by making sure we address your support needs as efficiently and thoroughly as possible. We want you to get the most out of the InReach platform, and we are here to help in whatever way we can.
Here to Help You Succeed
The Client Services team is ready to help you be successful! Some of the primary areas of assistance provided by the knowledgeable and dedicated Client Services staff include (but are not limited to):
Training on both the Customer Catalog and Administrative Account area
Product entries
Webinar coordinating
Product questions
Report product enhancements requests or issues
Training on new features included in product releases
A primary point of contact for you and your staff to help resolve any and everything needed to ensure your success